Sam after the big Amp Camp show at the Yellowstone Valley Brewing Co.
Sam Meling Memorial Scholarship Fund
Sam was born on Feb. 2, 2002 in Billings. Sam passed from this life on Nov. 17, 2015 in Laurel.
Sam's family has kept Sam's memory vibrant at Amp Camp by donating scholarships so that students in need of financial assistance get the opportunity to attend the camp each summer. Sam was a perfect addition to our camp and part of our first meeting with Bob Engel's "Laurel Boys" three years ago. Sam was always positive and ready to step out of his comfort zone and take a big solo for the the end of camp rehearsals and performance.
We all miss Sam and we are thankful for the Meling's continued encouragement and support for Amp Camp as well as keeping us connected to Sam in this way.
Who was Sam Meling? Sam was an 8th grader destined for greatness. He was intellectual - an honor student, avid reader, and creative writer. Sam was talented - a guitarist, photographer and actor. Sam was an athlete - a karate black belt, skier and runner. Sam was an outdoorsman - family hiking/ camping trips, playing in Flathead Lake and horseback riding at his favorite ranch in Wyoming. Sam was funny - he displayed a clever, low key sense of humor and a high energy goofy side too. Sam was a game player - enamored with video games and paintball. Sam was worried about other people's feelings and was kind and caring. He had the biggest heart of anyone and people always said he had an "old soul". Sam was an amazing big brother to his sister Lucy and the best son a mom and dad could ever hope for. The world lost an amazing soul when Sam left this earth to be with his Father in Heaven.
Hansen Music.
Hansen music is one of our favorite shops in the world and we are pleased as punch that they would donate scholarships and supplies to our camp.
Hansen Music is one of Billings, Montana's oldest and most professional musical supply stores and equipment service centers. Every member of the Hansen Team is either a pro musician, master technician or comes with seasoned experience within the music industry. The New Store carries the largest amount of musical stock in the region and hot new items are always pouring in. You name it ... guitars, basses, banjos, violins, keyboards, drum kits, effects, PA systems, trumpets, percussion, ukuleles, mandolins, amplifiers, strings, sheet music, and a mountain of accessories that will blow your mind and please your ear.
Nick Cladis and the Mary Alice Fortin Foundation for Youth Enrichment
"The family has had a profound impact on Billings and has been a catalyst for a great community spirit,"
We are thankful to have had donations to our camp from this foundation.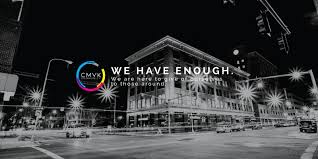 Cmyk Community has supported AMP CAMP for three + years now holding to their values that they have enough and can support local arts, global and local causes. We are very grateful to them for their continued support and vision for the community. http://cmykcommunity.com
Rocky Mountain college and Professor Jen Bratz we couldn't do it w/out you!
John J. Roberts.
Ben Johns
Mark and Josi Wilgus